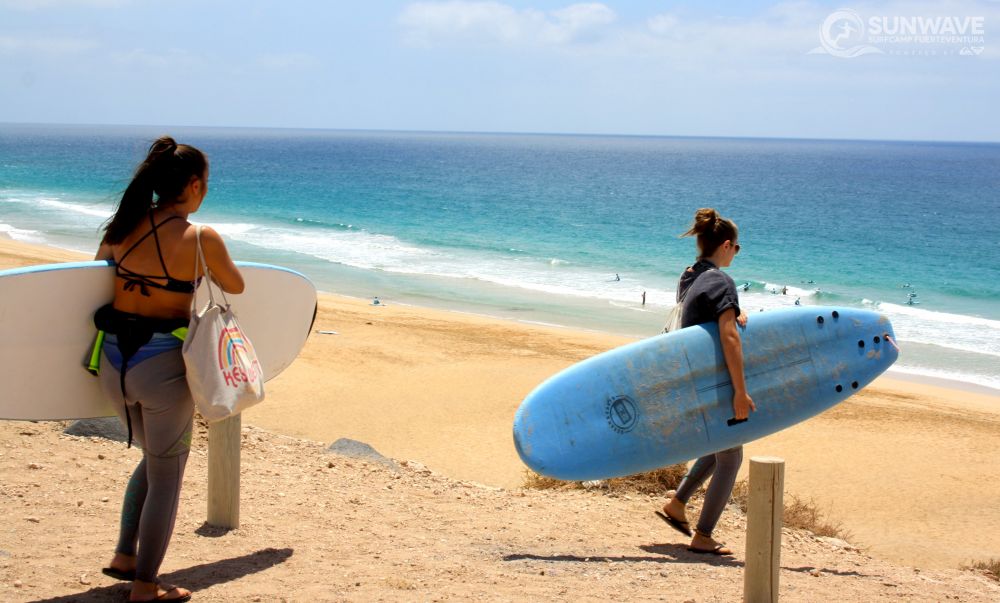 Frequently Asked Questions - Sunwave Surfcamp
PREPARATION AND TRANSPORT
What should I bring to Sunwave Surfcamp?
We recommend bringing, swimming suits, sunscreen, valid ID, cash, hat, mosquito repellent and suitable clothing
Check out our blog post on 5 things you need to pack for your trip to Sunwave Surfcamp
Can I bring my own board?
Of course you can! We do have a range of boards here that cater from the Beginner - Advanced surfer. You are more than welcome to use these, however if you want to bring your own board we are more than happy to accommodate.
How do I get to the Surfcamp from the airport?
We will send you a list with recommended options for airport transfers,all economic and reliable,where you can book your transfer online.
Do I need to physically prepare for surf camp?
You do need to have at least a basic level of fitness for surfing, you will be required to pop up, paddle and carry your boards to and from the beach, while you don't need to be Arnold Schwarzenegger we do recommend having some basic fitness to ensure you get the most out of your time here.
Check out our blog post: Exercises to get you in top surfing shape!
How much spending money should I bring?
This is a difficult one to answer as everybody is different but to help steer you in the right direction here is a list of general island prices (all approximate)
- 1 beer is 1-3 euros
- Normal dinner - burger, pizza etc. is 8-12
- Fancy Dinner - tapas, steak, etc. 20-25 euros
- Lunch at a lunch bar 3-10 euros
- Coffee - 1-3 euros
- Dinner with Sunwave Surfcamp (every Wednesday and Friday) - 10-12 euros
- Yoga lessons - 10 euros
ACCOMMODATION & LESSONS



Can I come by myself?
Of course you can! We have a lot of solo travellers come to our surf camps, it is a great place to meet new friends, and have a lot of fun! We often find that a lot of people who have come by themselves come back again with people they have met during their time here!
How many students per surf instructor?
We have a maximum of 8 surfers per surf instructor. The actual group size will depend on the time of year, your level and how busy we are. If you want a more personalised lesson we also offer private courses - find more info here
What happens if it rains?
Firstly, it hardly ever rains here on Fuerteventura, however if it does we surf rain or shine! You're going to get wet anyway right! There is no better feeling than being in the ocean and having the rainfall around you, so enjoy!
I have never surfed before is that ok?
Absolutely, a lot of our guests have never surfed before, we have beginner surf courses year round and our surf instructors will take you through everything you need to know step by step, even from what foot you put your leash on! So do not worry, we have got you covered.
Which day can I start my course?
Our surf courses run 7 days a week so you can start any day you like! We usually surf from 9.00am to 1.00pm or from 2.00pm to 6.00pm depending on your level and the current conditions. You will be put in a group on your arrival day, you will just need to check the blackboard at the surf school to check your time for the next day. Easy!
How old do I have to be?
We try our best and cater for everyone and we have a lot of private family groups coming through with young children who have a great time learning to surf as a part of a family holiday,
For our regular group courses the minimum ages is about 14 years + depending on the conditions and experience of the surfer. Sometimes we also have special kids courses for kids 8-14. Send us an email and we can talk to you about this further!
To stay at one of our surf camps you must be 18 years+
The exception to this rule is at our Surf Resort where minors must be accompanied by their parents.

Are meals included?
Meals are not included, however there is never a supermarket or restaurant far away! All of our surf camps have fully equipped kitchens so you are free to prepare anything you like! We also invite you to dinner with us on Wednesday and Friday nights at local hot spots so you are sure be sure to join us! This way you can decide what you when, what and with whom you would like to eat.
Can we use the surfboards outside the lessons?
If you have booked a full surfcamp package, you are welcome to use the equipment outside of surf lessons also. Otherwise we are happy to rent some boards to you for a special price. Just ask us in the office for more info. We only ask that you leave us a 50 euro deposit for the boards and that you bring them back to our surf school in the evening.
What language are the surf courses taught in?
Our surf lessons are generally taught in English due to the vast variety of guests we have visit us from all over the world. However, we have a very multilingual team who speak a range of languages from Spanish to Italian, German, Dutch and more.
What are my accommodation options?
We have 3 surf camps here for you to choose from:
Surf Camp Corralejo - If you are traveling alone or in a group and you want to make new friends from all around the world? Then our surf hostel in the centre of Corralejo is for you!

Surf Resort Corralejo - On the one hand you want to enjoy the unique surf camp atmosphere, on the other hand you don't want to miss the luxury and privacy of your own studio or house? Then look no further – our Surf Resort is for you!
Surf Camp Villa Antonio - Our Villa Antonio is the right accommodation for you, if you are coming as a couple or small group, or if you want to relax in a quiet and authentic Canarian village after an exciting and intense day on the beach and in the water.
Can I stay in the Surf Camp without taking the surf courses?
Our Surf camps are made so that the people who you are surfing with all day are also the people you socialise with outside of surfing hours. We find that this creates a great atmosphere around our camps as you are with similar minded people! This is why we only offer accommodation to those who are taking a surf course. On occasion we do allow guests to stay in the Surf Resort Corralejo without taking a surf course, so please feel free to email us and we will see what we can do.

What is the best season for surfing?
Fuerteventura offers great weather and great waves all year round!
The type of waves you are looking for will depend on your surfing level. Winter provides bigger more powerful waves perfect to test any skill level and we can always find sheltered bays and areas which have more mellow waves if you are a beginner surfer. Summer is the perfect time for learning as there is a lot of wind swell (less powerful waves) and as you progress the conditions are perfect for catching your first green waves!
Sunwave Surfcamp Fuerteventura - 04.07.2017
Sunwave Surfcamp Fuerteventura - 04.07.2017 - El Cotillo Fuerteventura Beginner surf course
Click the blue button below to be directed to all the surfer pics.
You can download these for free, just remember to hashtag #sunwavesurfcamp on social media. Enjoy!
Surfer Pictures
---
07.07.2017 /Categories:
familys & kids
,
fuerteventura
,
surf camps
,
surf course
,
wellness & fun
---